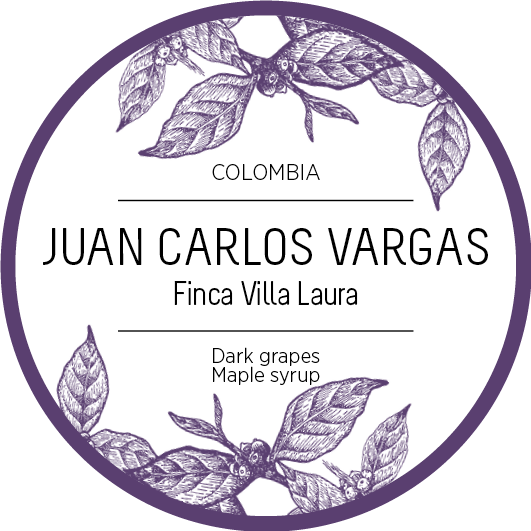 Coffee has been in Juan's family for over 70 years. His trees are shade-grown, which helps him a lot with weather changes, and allows the cherries to ripen steadily, leading to a higher quality bean. After washing, he ferments the beans in baskets made from the fibres of tree leaves. The mucilage is then washed off and the beans are dried on elevated beds for 20-35 days.
We visited Juan's farm during the summer of 2017 and were spoiled with wonderful fruits from his farm, delicious food and a warm bed. His farm is surrounded by beautiful nature and bursting with exotic flowers and birdlife, so he doesn't use any pesticides. We hope you love his coffee as much as we do.
Juan's coffee has a sweet aroma of dark grapes; it has medium body, silky texture and its sweet aftertaste reminds us of maple syrup.
Producer: Juan Carlos Vargas
Farm: Finca Villa Laura
Origin: San Antonio, Tolima
Variety: Castillo 80%, Colombia 20%
Altitude: 1650 m.
Proccessing method: Washed