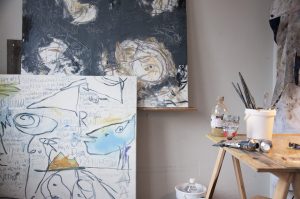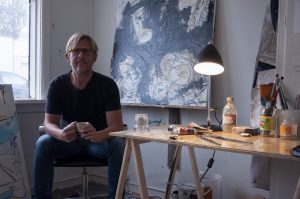 The exhibition opened Friday the 3rd of September in the coffeeshop in Ásmundarsalur.
For the past 30 years, Loftur had been scribbling on whatever may get to his hand; notebooks, photocopies, newspapers, paper napkins, calendar or anything else for expressions and explanations of all the possible and impossible that arises in everyday conversations with people in the kitchen, at the meeting or just anywhere.
As one can expect most of these drawings have been lost, crumpled and thrown in the trash, but not all of them.
The works in the exhibition, all of which were made in 2021, are based on the day-drawings that have been preserved and have lived in diaries and sketchbooks for over a decade. The drawings that survived, however trivial they may be, are now a source and inspiration to him at a new venue and at the same time a reminder that small drawings make dreams come true.
At the beginning of his career, Loftur worked as a baker, but for the longest time he was a managing director in marketing departments of car dealerships. He is currently studying fine art at the Reykjavík School of Visual Art
Photographs from the opening night: Julie Gasiglia