The seventh session of í kring, is a collaboration between us and the student gallery R†MD. This exhibition is showcasing the work of 15 different artists, students in art or design, as well as professional artists. í kring 07 is divided in three sessions of two weeks each:
Session #01 opens on the 14th of February
Session #02 opens on the 28th of February
Session #03 opens on the 13th of March.
Each opening will start at 17:00 in Brautarholt 2, with an artist walk and talk, each exhibiting artists will have an informal talk and together we will drop by each café until reaching Ásmundarsalur for a final drink and celebration.  
RÝMD is an exhibition space supported by the Iceland Academy of the Arts based in Breiðholt, within the former space of The Living Art Museum (Nýlistasafnið). Founded in 2017, the space is managed and programmed by current BA and MA students and exhibits work by national, local and international students that are currently studying at the Iceland Academy of the Arts or equivalent institutions. RÝMD functions as an experimental and collaborative space to pursue projects that may not be realized otherwise and is dedicated to providing exhibition opportunities for emerging artists in a professional setting.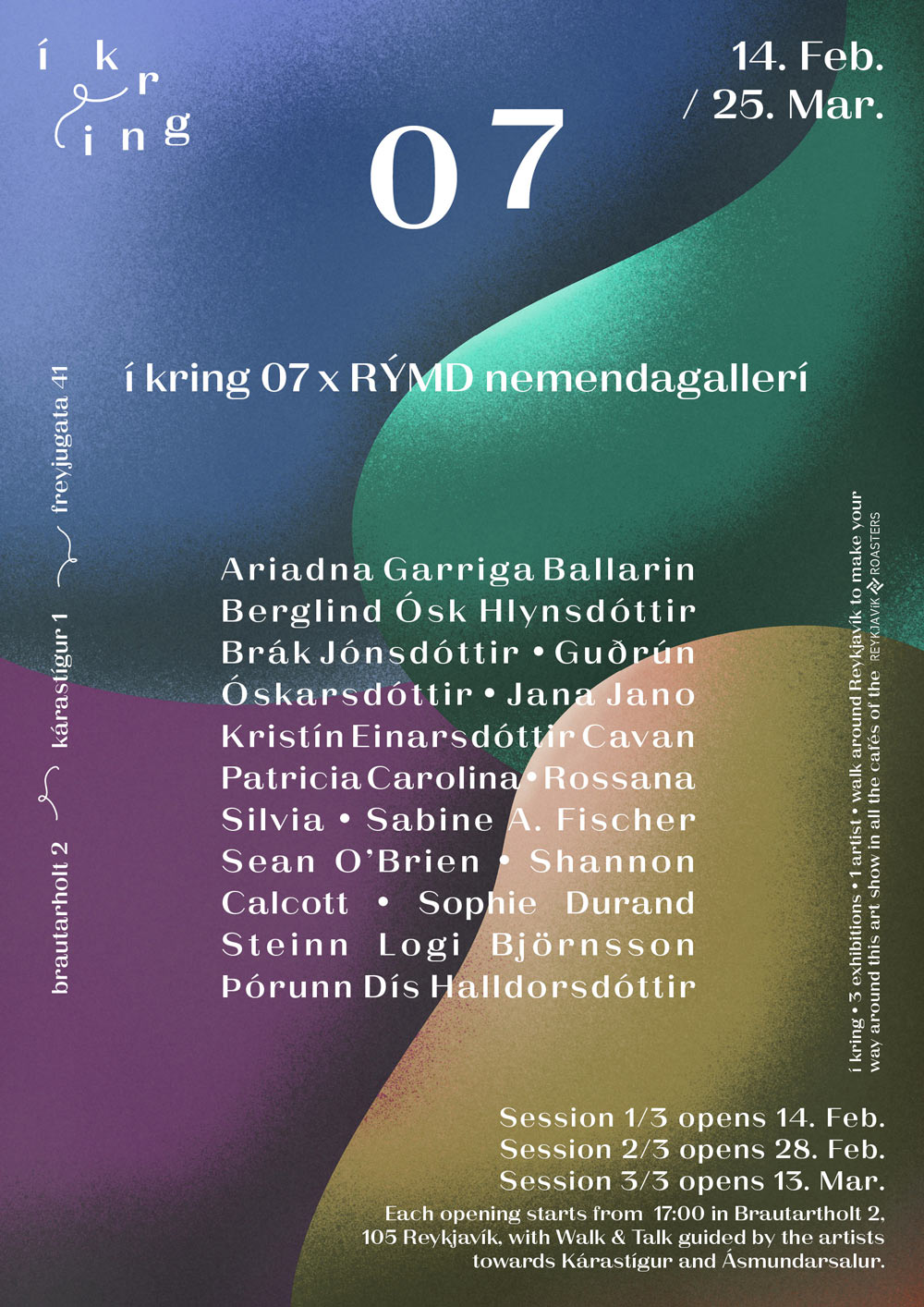 Session #01 opens on 14th of February :
freyjugata 41 – Sean O'Brien and Steinn Logi Björnsson
kárastígur 1 – Brák Jónsdóttir
brautarholt 2 – Guðrún Óskarsdóttir

Session #02 opens on 28th of February :
freyjugata 41 – Sabine A. Fischer and Jana Jano
kárastígur 1 – Kristín Einarsdóttir and Rossana Silvia
brautarholt 2 – Berglind Ósk Hlynsdóttir

Session #03 opens on 28th of February :
Ariadna Garriga Ballarin
Shannon Calcott
Patricia Carolina
Sophie Durand
Þórunn Dís Halldorsdóttir

Sean Patrick O'Brien was born after the computer and before the internet in Hermosa Beach, California. At the age of two, he moved with his family to the coast of Maine, USA. O'Brien's primary goal as an artist is to create an experience for the viewer that is engaging and encourages interaction. He wants people to touch, play, "feel like a kid," go inside, explore and be curious so the work becomes about each person's discovery as well as creating a shared experience of the strange and beautiful wonders of our universe. He is currently studying at Listaháskóli Íslands in the Masters in Performance Art.

Steinn Logi Björnsson
Steinn Logi Björnsson is a 20-year-old art student at myndlistarskolan í Reykjavík. He has been going on adventure expeditions where he explores what is unseen, whether it is outside, inside or in his own imagination. The art he then creates is a memory of that.

Brák Jónsdóttir
Brák Jónsdóttir was born in 1996 and brought up in her parents' art studios in Akureyri. She has exhibited and taken part in projects widely in Europe alongside working for an arts and culture establishment called Alþýðuhúsið in Siglufjörður. Brák is also a member of a performance collective called Kaktus and they run a gallery in Akureyri since 2015. Her work often takes the form of a video or a performance, but since she enrolled in the Icelandic Academy of the Arts in 2018 her practice has evolved more around installation and sculpture.

Guðrún Óskarsdóttir
Guðrún Óskarsdóttir was born in Reykjavík in 1986. After graduating and working as an acoustic engineer, she returned to Iceland in 2018. She studied at The Reykjavík School of Visual Arts, 2018-2019, and she is currently a fine art student at The Iceland University of the Arts. In her artwork, the idea usually comes before the medium so she works with a variety of methods, embroidery, sculptures, audio and electronics.

Sabine A Fischer
Sabine A. Fischer was born in 1979 in Frankfurt (Oder), East-Germany. She is currently studying in the Lístaháskoli / IUA, MA Fine Art, and previously studied a BA in Modern History / Journalism at the University of Karlsruhe, Germany, as well as a Diploma in Fine Art, Acadamy of Fine Arts Leipzig. Postgraduate study in Fine Arts, Department of Media Art, Academy of Fine Arts Leipzig, Germany.

Jana Jano
Jana Jano is a Czech artist based in Reykjavik. She works thematically, using different media. She calls herself a visual storyteller as her focus is to witness the essence of what she perceives, showing a new point of view.
Exhibited collection is an insight into the sense for abstract compositions in Reykjavik architecture focused on reflected feeling.

Kristín Einarsdóttir
Kristín studies fine art at the icelandic university of arts. Her artwork varies from different material such as paintings, drawings, videos and sound work. Most of her works have one thing in common which is to be connected to pshycology in its widest meaning in one way or another and through her interest in experimenting with the human psyche.

Rossana Silvia
Rossanna Silvia (Pavia, 1980) is an Italian artist living in Reykjavik, Iceland. She studied Painting and Contemporary Sacred Art in Milan, at Brera Art Academy and Political Sciences at the University of Pavia. She studies the landscape through watercolours, pencils and inks on paper and canvas. She is also working with paper installations and videos in which the main features are the tension generated by a silent, slow, repeated vision and cycles in contemporary life or nature.

Berglind Ósk Hlynsdóttir

Berglind began her studies in fashion design at the Iceland University of the Arts in the fall of 2018, prior to that she studied fashion design at Fjölbrautaskólinn in Garðabær and Textilskolen in Copenhagen. Recycling has always been a top priority for her.

Statement of intent:

In early October 2019, we (Ariadna Garriga Ballarin (ESP), Shannon Calcott (AU/DE), Patricia Carolina (MX/IS/DE), Sophie Durand (AU/IS) and Þórunn Dís Halldorsdóttir (IS)) spent a week together. We met in Krakow and traveled to and through the Tatra Mountains. As an initial presentation of artworks that respond to this experience this exhibition, traces the trajectory of memories from this journey, building from the material we were able to collect while moving through mountains. Through multiple approaches to production by each artist a bridge is built; one that connects then and now, here and there and allows for materialised experiences both collective and individual experiences to be shared. Each moment is a brief evocative description, account, or episode. Seeing these works one can begin to imagine and extrapolate on the journey they reflect.

Our self initiated residency only mountains never meet was part of the Sequences Art Festival 2019 Off Venue Program.

Bios:

Through and interdisciplinary and diachronic research Ariadna Garriga Ballarin bases her practice around the idea of the boundary as a constructive element. The boundary lines as the center and union between the ideas of dwelling (dwelling as construction, evolution and the sense of living on Earth), garden (garden as utopia, paradise and heterotopy), and space. Ariadna is based in Barcelona and graduated from Universitat de Barcelona in 2019.

Patricia Carolina occupies poetry and humor as tools in her practice. She is attracted to kinetic and time based aspects of material that move, morph and evolve. Patricia's work approaches different ways of understanding migration, labor and water. Often referring to the contradictory character of water which on one hand is a mundane but vital part of the everyday that at the same time has the power to wash away any sign that we were ever here. Patricia is based in Reykjavik and graduated from Listahaskoli Islands in 2019.

Shannon Calcott is an artist based in Berlin. Her practice explores the duality of the photographic image and the legacy of reproduction by subverting found imagery and materials through the use of analogue and digital collage. Her work aims to create a sense of wanderlust by unifying popular nostalgia, false romance and artificiality concerning the relationship between the photographic print as both image and object.

Sophie Durand's practice extends from the intersection of sculpture and performance, as well as being engaged in a painting and drawing practice. Sophie's works have their origin in anecdote, archive and memory; generally these are directly accessible to/ collected by her, or based on her own experiences/observations and the focus of all work is to activate archive and memory to form and although these forms vary all works can be categorised as memory images. Sophie has been based in Reykjavik since 2017.

Þórunn Dís Halldórsdóttir's work exists as material responses to her experiences and within the process through which this material is engaged with. These responses are direct and automatic and primarily manifest through video and drawing, as well as note taking. With this also acting as a starting point, these entities become the basis for investigations in printmaking practice. Through printmaking Þórunn aims to establish a visual language that communicates the personal to the viewer. Þórunnis in the second year at Listahaskoli Islandsand recently completed a semester abroad at the Academy of Fine Arts in Warsaw.

[/vc_column_text][/vc_column][/vc_row]